Whether you're a clinician looking to pick up more shifts and extra income or a healthcare facility needing to fill open staffing needs, working or hiring through Matchwell is unbelievably easy.
Unafraid to Challenge the Status Quo.
We believe the system works better when healthcare facilities looking for staff can connect directly with qualified W-2 workers interested in local contract and per diem shifts. Our unexpected approach brings messaging and matching transparency to clinicians and organizations alike – freeing you to do what matters most, caring for patients.
If you agree, let's do great work, together.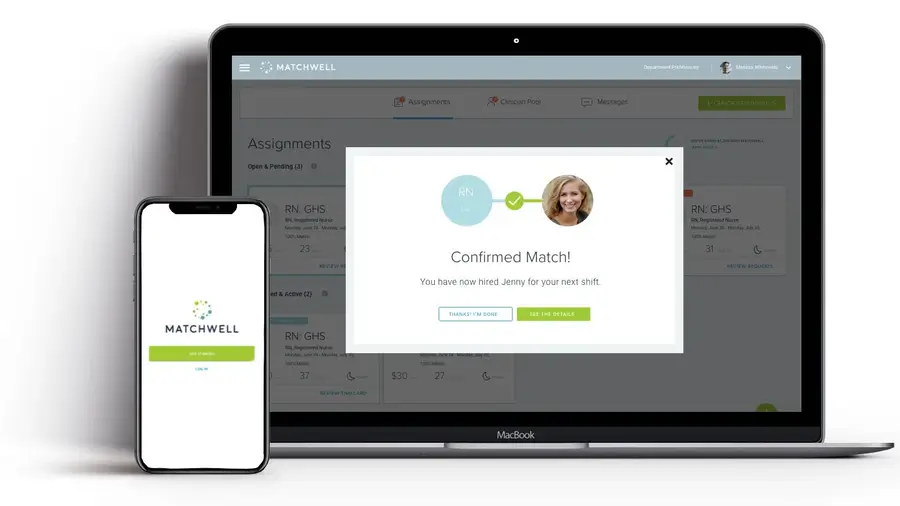 Flexibility, flexibility, flexibility.
Whether you're a clinician or a partner, the power is in your hands. Literally.

Clinicians, you deserve more– more control of where you work, your schedule, and your pay, all as a W-2 employee.

Need to balance family and a more flexible schedule to suit your life? We hear you, clinicians.

Expand your on-demand flex pool or hire for local contract work without markups, directly and transparently.
Reduce overtime. Eliminate unnecessary fees. The more you hire through Matchwell, the more you save.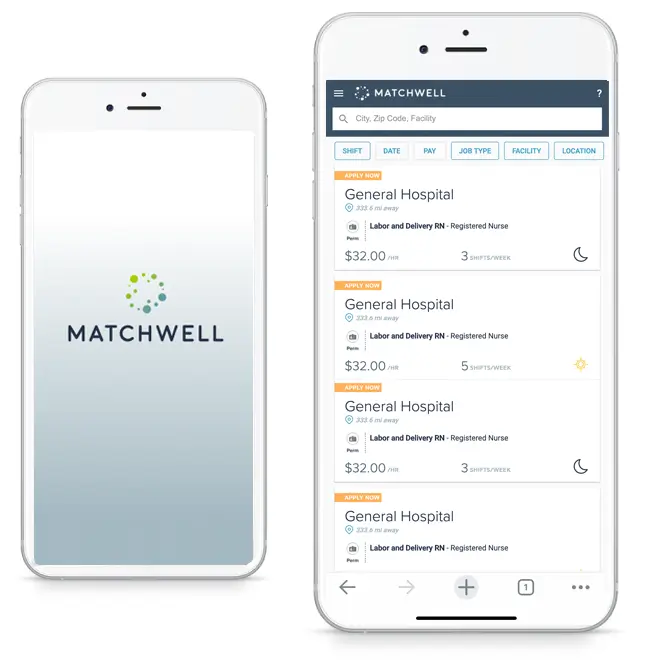 Healthcare professionals create a free Matchwell account. They explore per diem, local contract, or even full-time opportunities directly with top organizations.
Organizations are matched with pre-vetted, qualified, and interested healthcare professionals. Both communicate directly and transparently – with no middleman.
Protect a life. With every match made on Matchwell, we'll donate to Vaccine Ambassadors, sharing life-saving vaccines with those in need.
Matchwell is on an unrelenting mission to help the healthcare industry, addressing talent shortages and worker burnout while empowering clinicians with work-life harmony. We built AI-driven technology to serve today's workforce challenges, and we continue to unconventionally imagine the future of workforce flexibility.
Matchwell's healthcare industry savings goal.
Healthcare organizations pay for Matchwell through savings.
Vaccines donated by Matchwell to date.
What our users are saying.
"Best decision I made! You matched me very well. This is my dream job! I feel so much freedom. Right now, I'm living my best life! I've learned that the key is hooking up with companies that are reputable. If it wasn't for Matchwell I would have missed this opportunity."
"It's time for the post-acute industry to rethink how we access staff for filling on-demand and long-term contract positions to support our communities. Matchwell provides us the logistical tool and the support to access large pools of pre-vetted clinicians that we can deploy in the best interest of our residents, facilities and our Signature family."
Tracy Jansen, Chief Human Resources Officer, Signature HealthCARE
"Working per diem with View Point has provided me with experience as a new nurse to provide better care to my patients at my full time job. I've learned so much about caring for psychiatric patients from the patients and nurses at View Point."